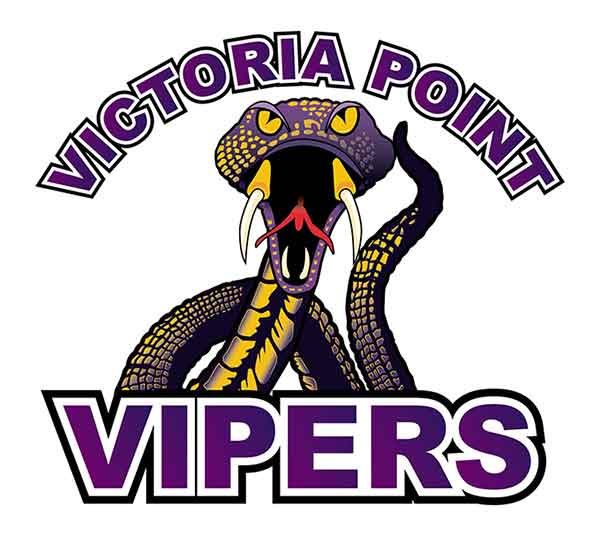 Victoria Point Vipers
Action Indoor Sports Victoria Point plays representative sport against other clubs in south east Queensland in competitions known as Queensland Cricket Indoor (QCI) Major League and Indoor Netball Federation of Queensland (INFQ) Super League. These competitions usually start in March and run through to September each year.
This is an opportunity for our in-house players to step up to the next level to compete and take their place in the representative pathways offered by these sports. By representing the Victoria Point Vipers, players can then get selected to play in "Zone" Teams made up of players from multiple centres to compete at Zone Championships in an effort to be selected to represent QLD in their chosen sport. Then the ultimate representative honour is to be selected to represent Australia at a Trans-Tasman or World Cup competition.
Victoria Point Vipers have a proud history in both Netball and Cricket and have been represented by some of the greatest players to play for our state and country. The Victoria Point Vipers are well known for being highly competitive with a never say die attitude as well as always being up for a chat and drink after the game.
So if you want to test yourself against the best, why not speak to our sports co-ordinators to see if you can take part in a Vipers team and represent our great centre. Who knows, you may be the next QLD or Australian player to represent us!
Junior Vipers
We love when our Juniors join the Vipers club, just like our Senior players we enter Junior teams into a variety of officially sanctioned events throughout the year usually in term 2, 3 and the September Holidays. Just like the seniors there are pathways to representing both state and country. Ask one of our friendly staff for more information.
Superleague Downloads

PDF - 0.00 - January 01 1970
Super League Netball
Competing against Clubs such as Kawana, Strathpine, Bracken Ridge, Toombul, Wynnum, Toowoomba and Browns Plains Super League Netball is played over a home and away format, with the top 4 teams in each grade progressing into the final series.
In 2016, Victoria Point are hosting the Grand Finals!
This year we have teams participating in the following grades:
Ladies A, B & C
Mixed A, B & C
Men's A
19 & Under Ladies & Mixed
21 & Under Ladies
23 & Under Mixed
The season begins in March 2016 and concludes in August 2016.
Super League Cricket
Competing against clubs such as Caboolture, Strathpine, Maroochydore, Toombul, Wynnum, Toowoomba, Gold Coast, Springwood, Ipswich, Beenleigh & Salisbury, Major League Cricket is played as 1 single round where each club plays against each other just once.
The top 6 teams then move into an elimination finals series where all clubs play at the one venue for each finals round.
The grades played are:
Men's A, B, C & D
Masters A O/35 Men
Masters B O/35 Men
Masters O/45 Men
The season begins in April 2016 and concludes in September 2016.